WACKY TUESDAY!!!!!!!
My day started with the announcement that the Governor of our state was arrested for extortion or attempted extortion at least. What an idiot. And he said to the media not too long ago that he doesn't do ANYTHING illegal. He was caught with his hand in the cookie jar!! Someone on the news commented that they are going to have to build a Governor's wing on the State Pen ... hahahaha! Unfortunately it's true!
I had the day off because Caryn was going to work during the day and I had to watch Miss Emma - so I scheduled my appointment with the ortho doc about my elbow yesterday too. Char and I gathered up the little ones, went to Wal Mart and grabbed some Color Wonder markers - yeah too bad I didn't think of those earlier; BEFORE Emma used her skin as a canvas -

-- aaaanyway ... I got some gold fish crackers and juice too then we went to of all the dreadful places - Chuck E Cheese for lunch! I figured the girls would love to run around for an hour - and man did they have fun!
Emma wanted to go on the miniature carousel ride over and over ... she played a basketball game (I think she just liked to throw the mini basketball all over) and went on a thrill ride with Char - it was like a spooky roller coaster and she was so funny, she loved it and squealed at the "scary" parts, HI-larious!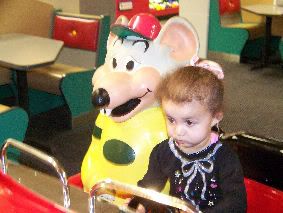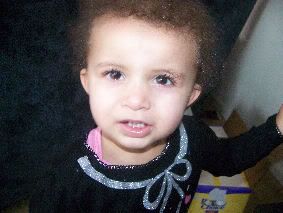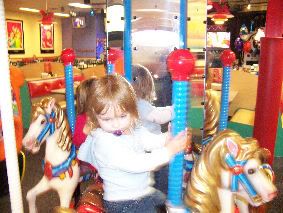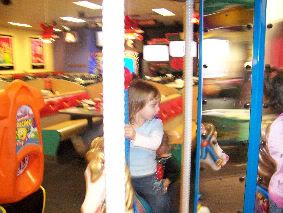 So when it was time to go we had to literally DRAG the girls out the door and by the time we got to my doctor's office they were out cold! Good idea Gram! Josh was singing and Char stayed in the car with them so I could go in to see the doc. When I came out they were ALL sleeping! LOL Josh was still singing! Char said that at one point she put in Pink Floyd but the girls started to stir so she put Josh back in and they rested again! Hehehehehe! They will be like Duncan the first time they see Josh and sleep through the whole bloody thing! Anyway ... they woke up on the way back home and held hands in the back seat, it was just tooooooooo CUTE!!!!!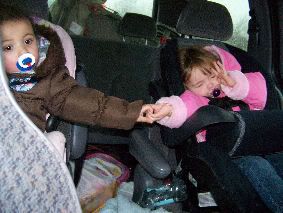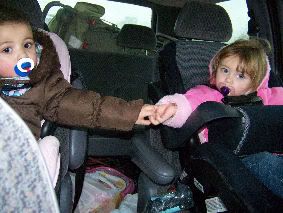 God I love those little girls. They are more like sisters than cousins ...
Soooooo doctor ... he said I have 'golfer's elbow' and what that is - it's an inflammation of the tendon that runs across the medial (or inside) part of my elbow and to my wrist sooo he gave me a brace to wear and I have to go through 4 weeks of PT then see him again and if it's not better he will threaten me with injecting my joint with a steroid to bring the inflammation down. OY! Lets hope that PT works shall we?
Well have a great hump day. I think I'm going to let baby boy stay home from school today, he's got a nasty cough and he had a hard time getting to sleep because it was annoying him. I think he needs some rest, don't you??
Don't we all?
[{"parent":{"title":"Get on the list!","body":"Get exclusive information about Josh\u00a0Groban's tour dates, video premieres and special announcements","field_newsletter_id":"6388009","field_label_list_id":"6518500","field_display_rates":"0","field_preview_mode":"false","field_lbox_height":"","field_lbox_width":"","field_toaster_timeout":"60000","field_toaster_position":"From Top","field_turnkey_height":"1000","field_mailing_list_params_toast":"&autoreply=no","field_mailing_list_params_se":"&autoreply=no"}}]